May 2020: Overpolicing in a pandemic, Part 2
People all over England and Wales are finding out the hard way the postcode lottery of lockdown stops by the police
Dear StopWatchers,
We are nearly three months into a lockdown, which has brought the issue of unfair policing into the public's consciousness in an unprecedented manner. Many more law abiding citizens of this country are feeling the effects of hastily drafted laws that have led to wrongful charges brought against scores of them.
And on top of all of that, racial disproportionality remains as stark as ever, with stop and searches affecting black people four times more than white people.
This has also been a month where a long-running inquiry has concluded with no justice for an unarmed man who was shot dead by a police marksman in 2012, but the government has claimed to have 'learnt lessons from the tragic case'.
Meanwhile, concerns over terrible tech rumble on, with a university research paper's unfounded boasts of pre-crime facial recognition tests having 'no racial bias' mysteriously removed from their website almost as soon as it was published – who knows why? 🤔
In more positive news, Neomi Bennett – the nurse unfairly charged and found guilty for police obstruction in 2019 – had her case overturned on appeal, a triumph for true justice against police harassment.
If you have, or you know someone who has experienced problems with the police during a stop and search, please see the link below for information:
Here's to another month. Please enjoy our roundup stories below.
---
Overpolicing in a pandemic, Part 2: The postcode lottery
Analysis by The Independent shows stark inequalities in policing of the novel coronavirus legislation, with discrepancies in issuing fines up to 10 times between neighbouring police force regions (The Independent, 18 May).
Furthermore, a Crown Prosecution Service review found that although 175 out of 187 charges under the regulations were correct, all 44 prosecutions under the separate Coronavirus Act were unlawful.
Greg McGill, the CPS director of legal services, said:
The main problem was that they didn't relate to potentially infectious people who refused to cooperate with police or public health officers requiring them to be screened for Covid-19.
The police's total failure to apply the legislation correctly or equitably corresponds with the bad publicity the force has received anecdotally, including stories such as South Yorkshire Police's apology for an alert that appeared to mock a jogger's kit – 'essential saunter in jeans as exercise' (The Sun, 05 May). Next door, Derbyshire Constabulary's Chief Constable Peter Goodman slipped quietly into retirement, his swan song the social distancing trick of authorising the pouring of black dye into a lagoon in the Peak District to deter people from travelling there (Coventry Telegraph, 06 May).
Raj Chada, head of the criminal defence department and a partner at firm Hodge Jones & Allen, warned that the 'mish-mash' of 'completely unclear' new guidance and 'confusing messages' from government is a 'recipe for disaster' for police officers tasked with enforcing the lockdown (Express & Star, 11 May). And Kirsty Brimelow QC, who helped bring the country's first (and unlawful) coronavirus law arrest to attention, told PA: 'The [UK] Government should be recommending a review of all fines so far issued rather than continuing deeper into this enforcement mess.'
Brimelow was also one of several signees (including NGOs Big Brother Watch and Liberty) of an open letter urging National Police Chiefs' Council chairman Martin Hewitt to review all 14,000 police fines (Fixed Penalty Notices) issued for alleged breaches of lockdown rules (Daily Mail, 21 May). It reads:
We believe that a significant number of FPNs have been wrongly issued and, particularly in light of the amended regulations that present new enforcement challenges, that there is a continued risk of FPNs being wrongly issued – and at significantly increased numbers.
This is why an urgent national review of all FPNs issued under emergency laws is required.
Analysis of the FPNs recorded between 27 March and 11 May by Liberty Investigates and The Guardian found that ethnic minorities were 54% more likely to receive fines under the coronavirus legislation than white people (The Guardian, 26 May).
Freedom of Information requests from 22 of the UK's 43 police forces also revealed enormous racial disparities in the issuance of FPNs (Novara Media, 29 May). Black, Asian and Minority Ethnic (BAME) people living outside of London were 4.4 times more likely than white people to receive a £60 fine for breaking lockdown in the first full week that new police powers were in place, with Black people in particular 8.7 times more likely to be fined.
This stark racial disproportionality exposed in the data calls into question whether the fines have been issued fairly.
And it is not only FPNs that have become a flashpoint of dispute. Just as the lockdown rules were giving way to a 'test and trace' system for coronavirus cases, Health Secretary Matt Hancock issued a thinly veiled threat of issuing fines to those who disobey 14-day quarantine orders. This was pilloried by civil liberties groups as a 'draconian intrusion of privacy' (Mail, 29 May), a legitimate fear already being played out elsewhere in the world, most notably India, according to WIRED.
Our CEO Katrina Ffrench told MailOnline:
We are aware we are in the middle of a health pandemic and the need to get infection levels down.
However, we have issues with the 14-day isolation, in that is could go from voluntary to mandatory.
We want primary legislation in place and for this to be properly debated and scrutinised by MPs.
---
New era of 'law and order' policing, same old story
In London, a youth worker who says he was unfairly targeted by the Metropolitan Police has criticised their use of stop and search during lockdown (ITV News, 19 May)
Sayce Holmes-Lewis was pulled over in south London while driving to take food to a bereaved friend. Police suspected he was carrying drugs. He said:
They stopped me after 45 seconds of seeing me based on my behaviour. I'm not sure what that means but it's stereotyping and racial profiling. It's happened to me so many times and enough is enough.
ITV News London also spoke to teacher Dwayne Francis who said he was handcuffed on the way to work. These are just two of many searches in what has felt like a very heavy-handed upturn in police search volume since the coronavirus law was passed.
The Met's stats show a 45% year-on-year increase in stop and searches, from 20,981 in April 2019 to 30,608 in April 2020.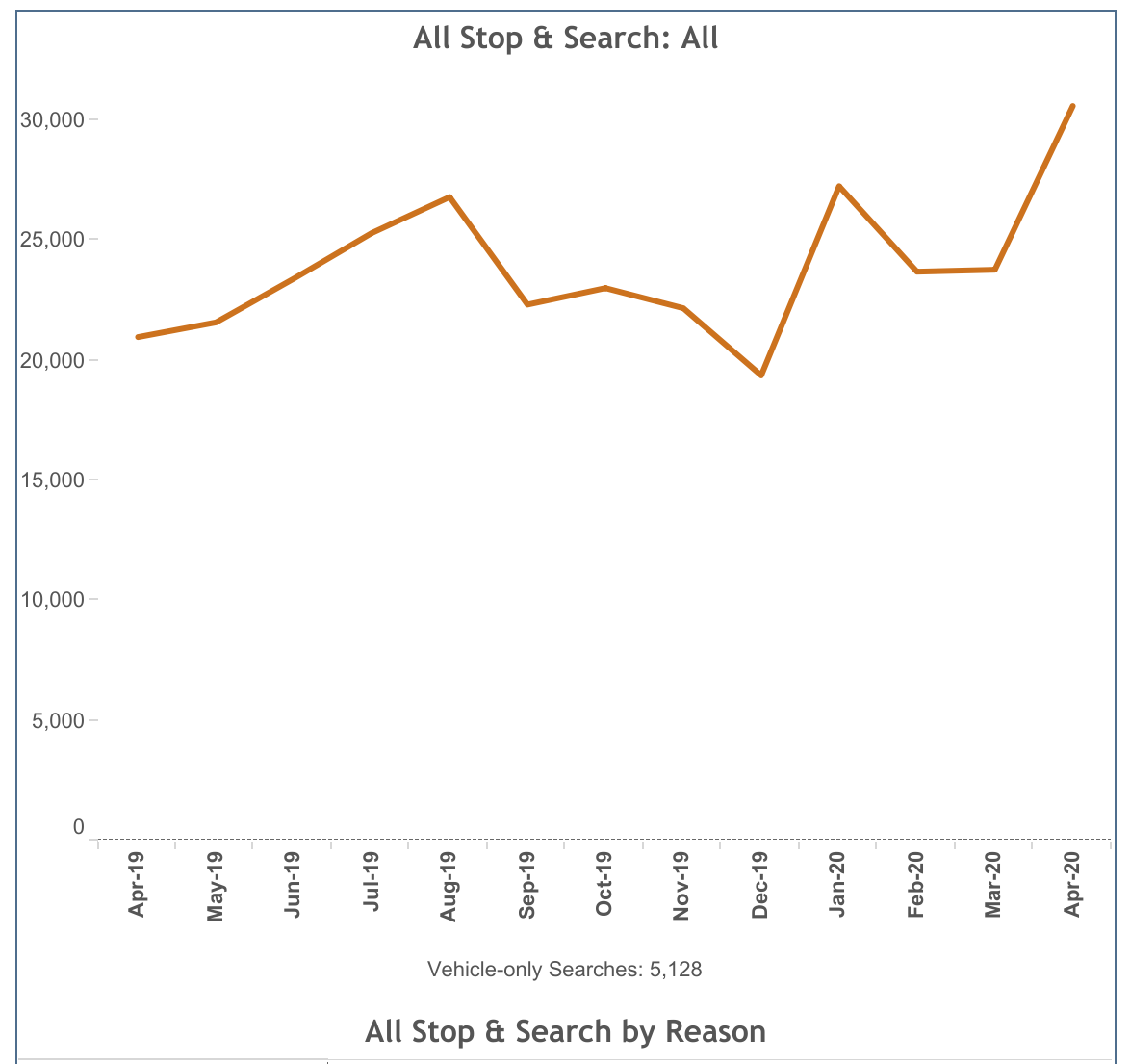 And despite across-the-board increases in stop and searches in the last month, the racially disproportionate nature of them remains the same, as the chart below shows. 2.3 white people per 1,000 individuals were stopped in April 2020, as were 9.3 black people per 1,000, four times more often.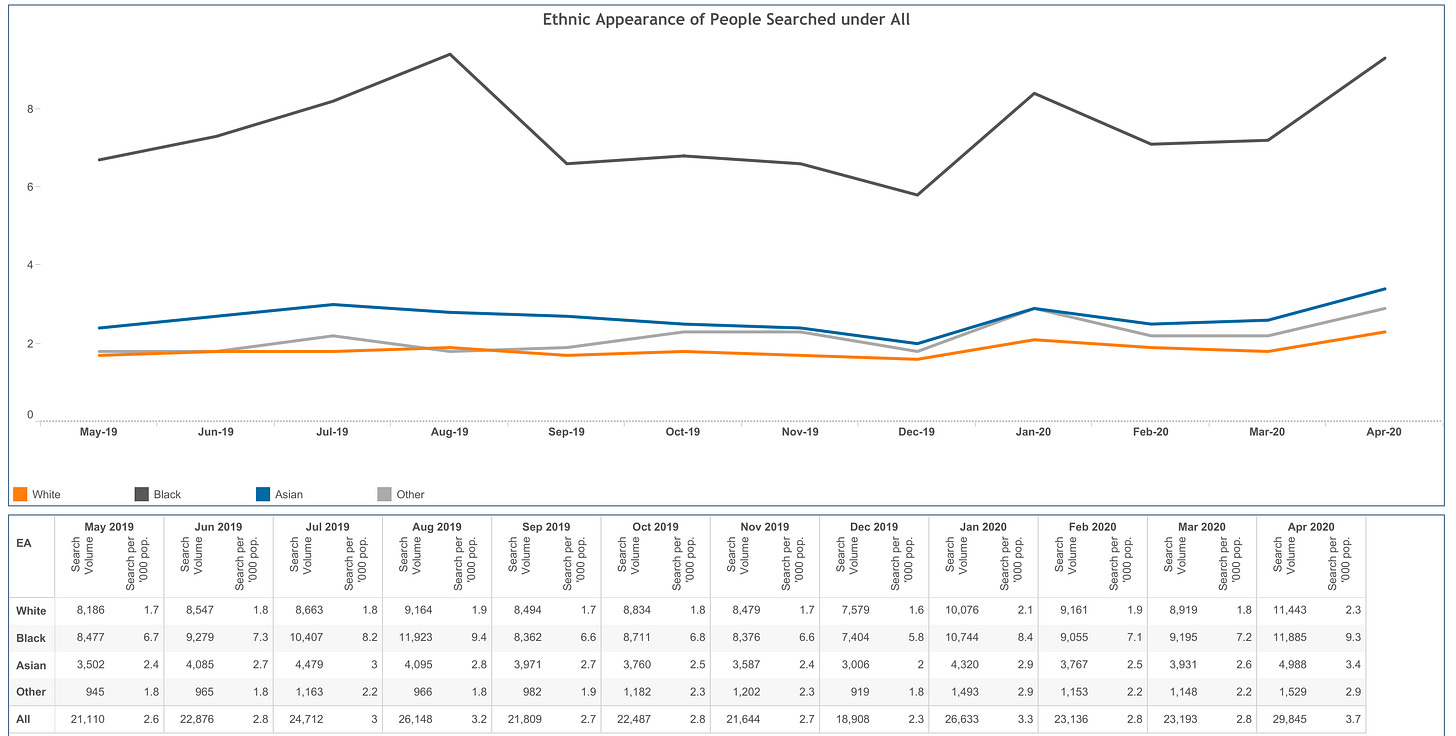 Outside of the capital, further abuses of stop and search powers persist, but only a few make the headlines, largely thanks to the footage captured by passers-by. Take, for example, the intimidation of a teenage boy by a dozen police officers in Manchester for allegedly 'smoking a spliff' (Daily Mail, 25 May):
Five police vans swooped to detain then release the boy as part of a stop and search operation in Newton Heath, Manchester, on May 16.
Footage shows three policemen pushing the boy's head against some metal shutters, while a fourth puts his hand on the boy's chest.
They then drag the teenager away towards one of the five police vehicles on the scene.
Greater Manchester Police confirmed the incident is now under review, as is the now-infamous incident of two officers involved in the tasering of Desmond Ziggy Mombeyarara in front of his child at a petrol station in the Stretford area of the city (Daily Mail, 08 May).
Recording searches is an essential part of holding the police to account for their actions, because as the examples above show, they prove beyond doubt that even in a pandemic, the police will somehow always make time for the unnecessary harassment of individuals on dubious grounds.
And sometimes they are found out: an officer from West Midlands Police has been suspended from duty after facing four allegations of excessive use of force against black men in the space of eight weeks. It comes as Derrick Campbell, West Midlands Regional Director for the IOPC, announced that the regulator is looking at nine investigations connected to alleged excessive use of force on black men following six separate incidents in the Birmingham area since February (Police Professional, 28 May). Campbell said:
Footage from some of these incidents was circulated via social media and the mainstream media, and I have personally called in some of these matters for investigation using my powers under the Police Reform Act after concerns were raised with me by the community.
I would like to reassure communities in the West Midlands that full, fair and thorough independent investigations are under way into all of these incidents and the conduct matters brought to our attention by the force. That is our role.
---
Section 60 watch*
London
Westminster (06 May), Brent (09, 15, 24 May), Southwark (13 May), Ealing (18 May), Haringey (19 May), Hackney (20 May), Islington (20, 24 May), Ilford – Met Police called according to reports (21 May), Tower Hamlets (21 May), Barnet (23 May)
Birmingham
Saltley, Alum Rock (11 May)
Essex
Colchester (23 May)
* This is not a comprehensive list
---
Free rein to fatally wound
Another police killing of an unarmed person goes without prosecution.
The marksman who shot dead the unarmed Anthony Grainger in 2012 will not face disciplinary action. The police watchdog IOPC's 345-page report into the case found that the shooting was not unlawful, ruled that the officer who fired the fatal shot (known only as Q9), acted 'honestly', and stopped short of recommending any further action to be taken against any of the police officers involved (Manchester Evening News, 21 May).
Anthony's partner – Gail Hadfield-Grainger – said she was 'absolutely disgusted at the timing' of the ruling, which came 24 hours after a government report had said lessons had been learned by Greater Manchester Police – such as adopting body worn video for all Armed Response Vehicle officers – in the wake of the damning public inquiry into the fatal shooting.
Hadfield-Grainger, 37, said:
The fact is the person who pulled the trigger and fired the fatal shot that killed Anthony has still got a job, a pension, a home and his family and he isn't going to face a misconduct hearing. This makes the public think they are doing something and really there's nothing going on behind closed doors.

It's a really bad example for the rest of the police that if you take somebody's life on purpose and you had an honestly held belief it just gives them free rein, to know that if somebody was to do something there's going to be no disciplinary action.
---
Terrible tech
Perhaps the notorious photo-thieving facial recognition startup Clearview AI have gained some moral fibre? One might think so with the news article titled 'Clearview AI Has Promised To Cancel All Relationships With Private Companies' (Buzzfeed, 07 May)…
Or perhaps it should read: 'Clearview AI Has Promised To Scrape Photos For Law Enforcement Authorities Only'?
Although a US-based company, this is of concern to all individuals living in countries that at least pretend to promise a democratic mandate to their citizens concerning their privacy. However in this case, no permission was asked of the people of Illinois, and no accountability was given.
'These promises do little to address concerns about Clearview's reckless and dangerous business model,' said Nathan Freed Wessler, a staff attorney with the American Civil Liberties Union. 'There is no guarantee these steps will actually protect Illinois residents. And, even if there were, making promises about one state does nothing to end Clearview's abusive exploitation of people's faceprints across the country.'
Now you see it, now you don't: A university's 'research' of facial recognition made the spurious claim that they'd made the perfect bias-free pre-crime algorithmic software… for a minute (VICE, 06 May).
Fortunately, we were able to grab a screenshot of the original press release to this now-deleted paper, from the Harrisburg University of Science and Technology, before it was taken down, so you too can marvel at what the only-wrong-once-every-five attempts and not-at-all racist tech software can do – allegedly.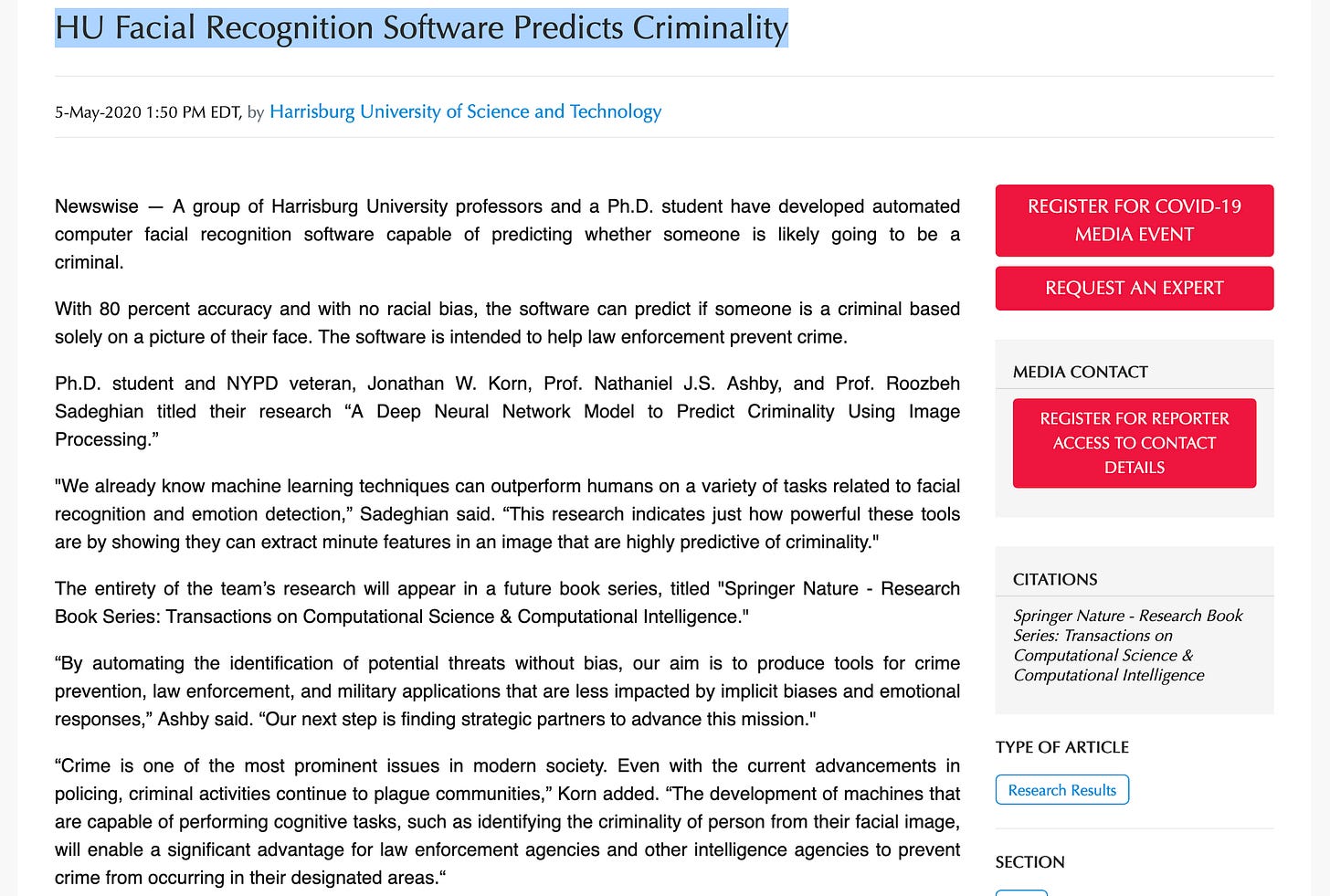 At the time of writing, Harrisburg University issued the following statement:
The news release outlining research titled "A Deep Neural Network Model to Predict Criminality Using Image Processing" was removed from the website at the request of the faculty involved in the research. The faculty are updating the paper to address concerns raised.

The faculty will update the release after the article is published in the journal.
By now, it ought to be a well-established fact that the idea of totally eliminating racial bias in tech is… well, confident at best. Still, we await the researchers' next attempt at claiming, if not actually doing, so.
Beware, beware, the glass-eyed stare, facial rec is (almost) everywhere: The CCTV specialist supplier Synectics has secured a competitive contract 'to provide integrated surveillance solutions for several prestigious sites across London'. Synectics will upgrade all sites to its Synergy 3 command and control software platform (PlaceTech 13 May).
It's important to note two things: 1) that this same company is a year into a software integration partnership with Anyvision, a pioneer in AI-based facial, body, and object recognition; and 2) that Synectics technology is now deployed in over 70% of Greater London boroughs.
This suggests that facial recognition CCTV will soon be ready to be turned on at the flick of a switch in the capital, despite the well documented problems of facial recognition cameras for ethnic minorities.
Everybody wear the mask but how long will it last? Perversely, a lasting feature of the pandemic has been the great take-up of face masks, to counter the COVID-19 strain of virus circulating the country. One side-effect of this has been to make the Met Police consider pausing their plans to roll out facial recognition (The Register, 15 May). This is because their deployment of Neoface tech supplied by NEC Global 'relies on people's full faces being visible – something not possible when most Britons will be wearing masks during the coming months'.
In a letter published [PDF] on the London Assembly website, the two elected representatives said: "We both believe that the way in which LFR [live facial recognition] is being rolled out as an operational tool in London is ill-advised, and that this technology will have a chilling effect on civil liberties if it is not used with clarity, accountability and with full democratic consent."
Face masks might not offer convenient protection from the prying eyes of the police for long, though. The Register's article notes that 'police eyes may be turning to recent Chinese developments to work around public health and safety measures'.
---
Good news! Crowdfunded nurse clears her name
In 2019, StopWatch took on the case of Neomi Bennett, a nurse who was the victim of a vigorous, unfair stop and search by Metropolitan Police officers. Over a year on from the ordeal, in which she was initially wrongly charged and found guilty for police obstruction in September, she has been formally acquitted on appeal.
Neomi made the announcement on her GoFundMe page, which many of you chipped in with financial assistance for her legal challenges over the last 12 months. She writes:
The police did not oppose our appeal and the case against me is now closed.
Thank you for believing in me. I greatly appreciate your help & support.
I didn't commit any crime on that night, but the system tried to convince me otherwise. I would not have been able to get through this without you.
Neomi's appeal, brought to a successful close, is an encouraging sign that with each other's support, we can overturn miscarriages of justice.
---
Politicians on policing
Public Health (4 May 2020)
Layla Moran Liberal Democrat Spokesperson (Education): … When our civil liberties are being curtailed, we also need to make sure that everyone is treated equally under the law, and this includes enforcement of the lockdown. The Government must work actively to ensure that the powers given to the police in these regulations are not used to disproportionately target BAME people, as stop-and-search powers are. We must be vigilant against wrongful convictions, as was highlighted in the case of 18-year-old Lewis Brown in Oxford. He was wrongfully prosecuted recently under, strangely, Welsh powers in the Coronavirus Act 2020. While the CPS has announced that every single case under the Act involving a child will be reviewed, we need reassurance from the Government that they are working with the police to prevent what happened to Lewis—which would be distressing to anyone, but especially someone of that age—from happening again…
Written Answers — Home Office: Police: Disease Control (11 May 2020)
Chi Onwurah Shadow Minister (Business, Energy and Industrial Strategy), Shadow Minister (Digital, Culture, Media and Sport): To ask the Secretary of State for the Home Department, what assessment she has made of the effectiveness of the powers afforded to police forces on enforcing social distancing guidelines.
Kit Malthouse The Minister of State, Home Department: The Home Office is continuing to work with forces to address and correct any errors, to continue to maintain public trust. As per the recommendations, we will work with the NPCC and College of Policing to monitor enforcement across the country.
New enforcement powers have reaffirmed that policing by consent is at the heart of British policing. We are confident that police enforcement continues to be proportionate and effective.
Health Protection (Coronavirus, Restrictions) (England) Regulations 2020 - Motion to Consider (12 May 2020)
Debate moved by Lord Bethell and featuring contributions from Lord Hunt of Kings Heath, Lord Scriven, Lord Wei, Baroness Wilcox of Newport, Lord Alton of Liverpool, Baroness McIntosh of Pickering, Baroness Hamwee, Baroness Wheatcroft, Baroness Altmann, Lord Campbell-Savours, Baroness Finlay of Llandaff, Lord Blencathra, Lord Palmer of Childs Hill, Lord Kennedy of Southwark, Baroness Jones of Moulsecoomb, Lord Rosser, Baroness Barker, and Baroness Thornton.
Written Answers — Home Office: Drugs: Organised Crime (20 May 2020)
Sarah Jones Shadow Minister (Home Office): To ask the Secretary of State for the Home Department, how many county line phone numbers have been shut down in each month since December 2019. [47420]
To ask the Secretary of State for the Home Department, how many arrests have been made in operations targeting county lines gangs in each month since December 2019. [47421]
Kit Malthouse The Minister of State, Home Department: The National Crime Agency's most recent strategic assessment of serious and organised crime found that more than 3,000 unique county lines deal line numbers were identified in 2019, of which 800 to 1,100 lines were estimated to be active during a given month.
The Home Office collects and publishes statistics on the number of arrests conducted by each police force in England and Wales on an annual basis. Data are held at the offence group level only (for example 'Drug offences'). Information on the number of arrests that have been made in operations targeting county lines gangs in each month are not held centrally. The latest bulletin can be accessed here: https://www.gov.uk/government/statistics/police-powers-and-procedures-england-and-wales-year-ending-31-march-2019
We are investing £20m of dedicated funding in 2020/21 to further increase activity against these ruthless gangs. This builds on the £5m programme of work delivered in 19/20 to uplift the law enforcement response. Initial assessment of the outcomes of £5m investment in 19/20 demonstrate it has had a direct impact in disrupting county lines.
Written Answers — Home Office: Stop and Search: Ethnic Groups (20 May 2020)
Marsha de Cordova Shadow Secretary of State for Women and Equalities: To ask the Secretary of State for the Home Department, what the (a) ethnicity was of each individual subject to and (b) outcome was of each incidence of stop and search since the beginning of the covid-19 lockdown.
Kit Malthouse The Minister of State, Home Department: The information requested is not currently centrally available.
The Home Office collects and publishes statistics on the number of stop and searches including the ethnicity of the person searched and the outcome. Data are published annually in the 'Police Powers and Procedures, England and Wales' statistical bulletin, the latest of which can be accessed here:
https://www.gov.uk/government/collections/police-powers-and-procedures-england-and-wales
The next bulletin is due to be published in October 2020.
Questions to the Mayor of London — Enforcement of the Coronavirus Health Protection Regulations: Enforcement of the Coronavirus Health Protection Regulations (22 May 2020)
Unmesh Desai Labour: Please provide a percentage breakdown, by ethnicity and gender, of those in London who have been a) issued with a fixed penalty notice for breaching the Coronavirus Health Protection Regulations and b) have been cautioned for breaching the Coronavirus Health Protection Regulations
Sadiq Khan Mayor of London: The Commissioner and I are committed to transparent reporting of the Met's use of powers within the new coronavirus regulations.
The Met already makes comprehensive data on stop and search available for public scrutiny and the Commissioner has regular discussions with my Deputy Mayor for Policing and Crime about the Met's performance.
It is imperative that Londoners have confidence that the use of these new powers is appropriate and within the national guidelines set by the National Police Chiefs Counsel (NPCC). This is an issue for the whole of the country and therefore the Met will publish the data in line with the NPCC publication by the end of May 2020.
It is important that we better understand what might be driving the disproportionate effect that the COVID-19 pandemic is having on Black, Asian and minority ethnic (BAME) groups. I've been clear that this pandemic must be a wake-up call for our country and a catalyst for fundamental change.
Stay safe,
StopWatch
---
Donations
StopWatch is a volunteer led organisation that relies on the generosity of trusts and grant funders to operate. We DO NOT accept funding from the government or police as we believe this would compromise our ability to critically challenge.
Currently we're fundraising to build the StopWatch team and ensure that the great policy and community work that we do continues. Please help spread the word. Any financial assistance you can provide is greatly appreciated and supports us to become more sustainable.
CAF Bank – Registered office: CAF Bank Ltd, 25 Kings Hill Avenue, Kings Hill, West Malling, Kent, ME19 4JQ
Account Name: StopWatch
Sort Code: 40-52-40
Account Number: 00027415
---
If you like this newsletter and you know others who would too, why not share it?