August 2020: Automatic recognition
Two forms of tech surveillance dominate police coverage
Dear StopWatchers,
Another eventful month brings ever new strains of disproportionate policing to the fore. This newsletter's focus is on the opaque nature of the national network of cameras that the police use to track vehicles and their owners, while another form of automated surveillance – facial recognition – is halted in the law courts following a successful appeal from civil liberties campaigners.
Meanwhile, our Youth and Community Engagement Coordinator, Neal Brown, joined senior policy advisor Sarah Chander of European Digital Rights (EDRi) for an online panel discussion on anti-racism and the Black Lives Matter movement in Europe. Neal shared StopWatch's work, as well as vital information on the historic and ongoing overpolicing of black people in the UK.
We also went live on Instagram with comedian Kojo Anim to discuss stop and search and give important info on your rights during a stop, plus we met with Leader of the Liberal Democrats Sir Ed Davey MP to discuss his bill to repeal Section 60 searches (see Section 60 watch for more).
Finally, we need to say another huge thank you for the ongoing donations to our GoFundMe. We're so close to our £125k target, and this funding will mean we can reach more people with our work. Watch this space for what's to come, and thank you again for your support.
Topics in this newsletter include:
Police put on a front ahead of rally against – you guessed it, overpolicing

Dawn Butler MP wins the Overpoliced Celebrity of the Month award

Events in Richmond expose the curious problem of 'underpolicing'

The Coronavirus Act is still here – as are all the wrongful charges brought under it

In Terrible tech we explain how Automated Number Plate Recognition should be used, while a court rules that Automatic Facial Recognition shouldn't be
Please enjoy our roundup of stories below.
---
Police put on a front ahead of rally
*CLARIFICATION: This article has been amended to remove a quote from a Huffington Post article referring to the incident between 4Front and the Metropolitan Police as a 'raid'. This is inaccurate, as 4Front founder Temi Mwale's Facebook entry confirms. Apologies to 4Front for reprinting the error.*
Thank you to all those who attended the rally against the overpolicing of black communities and police brutality in Tottenham on the 8th of August. The show of support for the cause was moving and a positive sign of the change organisations such as ours, Tottenham Rights, The Monitoring Group, 4Front, and Black Lives Matter UK are fighting for.
Unfortunately, we cannot mention the rally without reporting on an incident prior to it: on Friday 07 August, the Metropolitan Police carried out a shocking and unwarranted Section 23 stop and search under the Misuse of Drugs Act at the 4Front premises, which saw the arrest of a 14-year-old boy on suspicion of possession of cannabis, and the dragging of kids into vans 'with no good reason', according to eyewitnesses. All those arrested were released from Colindale Police Station's custody soon afterwards. Founder Temi Mwale said:
We've been assaulted so many times here today. We have two members of my staff team that have been arrested.
We have several young people who have also been arrested. This is what we're dealing with and I've told them we want it to be deescalated and yet they've refused.
This community is sick and tired of the way we're being treated and now we need your support. We're meant to be out there tomorrow, Tottenham police station, but instead we're out here at Colindale police station right now.
The Met Police's statement on the incident ends with the reporting of a haul of 'thirteen bags containing cannabis', but crucially omits the fact that none of it was found on anyone they arrested, begging the question 'why didn't the police just search the park?' One answer might be that you can't arrest a hedgerow for possession.
---
Overpoliced Celebrity of the Month: Dawn Butler
These days, it seems as though there are enough dodgy stop and searches of certain well-known people to form a game show – and this month, the wheel of misfortune fell on Dawn Butler's shoulders.
Also winner of the Driving While Black award, the Member of Parliament for Brent Central was stopped by police officers in a friend's car whilst in Hackney, east London (Sky News, 10 Aug).
In the footage recorded by Butler, police officers said they were searching the area because of 'gang and knife crime', but Butler believed that she and her friend were profiled on the basis of their skin colour and make of car, 'a ridiculous way to police' as 85% of car stops of Black people result in no further action taken. One might wonder what such a high proportion of fruitless searches would achieve, other than a climate of mistrust between officers and those communities they purport to serve.
Typically, top police chiefs reacted by denying any underlying structural issues for why stops like Butler's happen. One thinkpiece from Ché Donald of the Police Federation (22 Aug) excused the officers behaviour as nothing more than the deployment of 'natural curiosity' out of 'a desire to be proactive', as if that itself wasn't problematic.
Met deputy commissioner Sir Steve House blamed 'human error' for the stop, before going on to take a swipe at those conducting 'trial by social media' as being 'unfair and damaging to individual officers' (Politics Home, 12 Aug), and, in an astonishing reveal, declaring that 'criminals use cars' (more on that in Terrible tech).
A whole police force's worth of rotten apples
A special mention also goes out to West Yorkshire Police, for two separate examples of egregious policing.
The first is as tactless and insensitive as it is excessive. In July, an officer was filmed apparently employing the George Floyd technique on a teenager's neck during his arrest outside Elland Road stadium, as Leeds United fans celebrated their club's promotion to the Premier League (Guardian, 07 Aug).
The IOPC will interview the officer on suspicion of common assault and investigate him for gross misconduct, a criminal charge, but as regional director, Miranda Biddle was quick to clarify, 'a criminal investigation does not mean that criminal charges will necessarily follow'.
Meanwhile, another officer from the same constabulary was removed from frontline duties after a clip surfaced of him appearing to threaten an individual in the process of arrest, saying: 'Chill out or I'll choke you out,' and then, 'Chill out or you're going to sleep.'
Elsewhere, senior serving officer Charles Ehikioya believes he was racially profiled during a stop and search (Guardian, 18 Aug), and 'plans to sue for racial harassment after his complaint "was not taken seriously"'.
Although shaken by the experience, he believes 'it's not the whole organisation' that behaves like this. However, while some may think such incidents are simply the actions of the odd rotten apple, others may also wonder how many of these 'isolated instances' must occur to turn a culture sour?
The observations of an anonymously-written article in The Guardian titled 'As a police officer, I know stop and search is really about power' remind us of this (27 Aug). For example, the author writes:
During incidents, everything we do should be filmed on our body cams; but nobody checks the things that aren't reported in the media or complained about… If you've made a mistake, you can leave it for 30 days and keep your head down and hope no one makes a complaint. Then if you don't press save, it erases itself…
Our first instinct is always to see it from the officer's point of view; it's difficult to see beyond that when a feeling of being under attack pervades…
We have not seen any direction since George Floyd was killed. We had a couple of emails, but nothing has really changed. No uncomfortable conversations are taking place…
Besides, quite how any of this is supposed to win over people frightened of being overpoliced to their trust is anyone's guess. A Focaldata poll conducted for the charity Hope Not Hate found that two thirds of ethnic minorities believe 'the police are biased against them', notably eight out of ten Black and Bangladeshi Brits (Guardian, 20 Aug).
Still, in a Channel 4 interview (13 Aug), Met Police commissioner Cressida Dick insisted on drawing a distinction between individual officers' discriminatory biases and the structural problems underpinning police culture, despite her claim that within her own force, Black, Asian and Minority Ethnic officers are twice as likely to find themselves in misconduct cases. Typically, Dick framed the racial disparity as an example of her driving progress, while other professions lag behind: 'what I can show you is that it is worse in education, worse in the National Health Service and that I have reduced that disparity', she told Krishnan Guru-Murthy.
However, to insist that rooting out individual bad apples is the answer, rather than overturning damaging policing strategies, is simply to deny the systemic problems within the force that have underscored widespread mistrust among ethnic minorities for years. There's a joke in all of this, but commissioner Dick wouldn't get it:
---
The curious problem of 'underpolicing'
In the London Borough of Richmond, some of the more anxious residents of the area have turned 'to independent companies to uphold the law' (London Evening Standard, 13 Aug). Features writer Samuel Fishwick notes:
Richmond residents tell me they are now hoping to turn to My Local Bobby (MLB), a private company that puts former police officers on uniformed patrol in London. It charges as little at £50 a month per resident to dedicate an officer to local 'microbeats' (about three square miles) in London… Employees are equipped with handcuffs, a body cam and a first aid kit, and are trained to make citizens' arrests.
Privately-paid for policing of this nature raises several issues. Firstly, it brings serious questions about how police distribute their resources. These residents, however rightly or wrongly, feel they are under protected and must pay twice for their own patrols, once in their council tax precepts for the police, and then again for a non-state militia when all else fails. At the same time, we see countless instances of van loads of officers targeting one or two suspects in a stop and search, of which the most common outcome is no further action.
Secondly, the privately-owned policing of public spaces may actually serve to decrease trust between people and create a more fearful environment, as writer, journalist and academic Anna Minton warns:
It's open air, invisible gating, if you like. You just create a much less free and inclusive city for everyone, a city where lots of people will think they don't really belong there. 
Thirdly, private patrols like this raise serious questions of accountability. We have mechanisms – however faulty and inadequate – to monitor and hold to account public police forces. The same accountability is not possible when it comes to a private police force. How can we be sure that these forces aren't replicating the same disproportionate policing patterns as the Metropolitan Police? 
Finally, we should remember that this month the Met took the decision to drop the Stephen Lawrence murder investigation. There are recommendations in the Macpherson report, which identified the problems of overpolicing and under protection of black communities, yet to be enacted. Anyone concerned about the issue of 'underpolicing' should call for these loudly and daily.
---
Pandemic policing – a record of total failure
This is your helpful reminder that coronavirus has not gone away, folks, and neither have the illegitimate police interventions that have been made under it. Big Brother Watch are tracking the Crown Prosecution Service reviews of charges issued under the lockdown laws, and found that our police still don't know how to even implement the Coronavirus Act.
The record of charges brought under review so far is as follows:
Only Britain's Eurovision entries can match this level of consistent and abject failure. But the Act still exists. If you believe that it should be scrapped, Liberty are still petitioning for signatures. Yours could make all the difference.
---
Section 60 watch*
London
Barnet/Brent (22 Aug), Ealing (14 Aug), Hillingdon (26 Aug), Southwark (21 Aug), Tower Hamlets (20 Aug), Westminster (09 Aug)
Birmingham (under West Midlands Police)
Ladywood, Perry Barr and Handsworth (07 Aug)
Cheshire
Middlewich (28 Aug)
Essex
Leigh-on-Sea (15 Aug)
Oxford (under Thames Valley Constabulary)
Part of east Oxford (25 Aug)
Liverpool (under Merseyside Police)
Toxteth (07 Aug)
* This is not a comprehensive list
Scrap Section 60 – new bill brought to parliament
A new bill is moving through parliament to scrap Section 60 searches. Tabled by Lib Dem leader Sir Ed Davey, the bill is set to be debated in parliament on 11 September and would repeal this police power altogether.
Section 60 is a highly contentious power. Under the Criminal Justice and Public Order Act 1994, it allows for police to be authorised to search any person or vehicle for weapons in a given area where serious violence 'may' occur. This authorisation lasts 24 hours and can be extended by another 24 hours.
Introduced originally to tackle violence associated with football matches, the power is designed to provide an exceptional response to anticipated violence. However, its use has since pivoted into day-to-day policing, with government ministers suggesting it is necessary to tackle serious youth violence. Recent StopWatch analysis of police and NHS data, however, suggests the power is not only ineffective but highly damaging:
In England and Wales, the use of Section 60 searches has increased more than 20 times (631 to 13,175) between 2016/17 and 2018/19.

Across England and Wales, hospital admissions for knife crime remained stable between 2017/18 and 2018/19 (at around 4,500 each year), but Section 60 searches increased more than five times in the same period (from 2,503 to 13,175). The rate of Section 60 searches is unrelated to hospital admissions for knife crime.

The Met Police performed three quarters (73%) of all the Section 60 searches across the country in 2018/19, but London consistently (from 2012/13 to 2018/19) has had only a quarter of all hospital admissions for knife crime (25-28%). The power clearly is not deployed in response to violence levels.

From 2006/07 to 2018/19, only 0.5% of Section 60 searches have resulted in an arrest for a weapon.

In 2018/19, black people were searched under Section 60 at almost 45 times the rate of white people.
Find out more about the bill here: https://www.libdems.org.uk/stopandsearch-qna
---
Terrible tech: Cruising in a surveillance state with ANPR
In light of Dawn Butler's infamous car stop, it is a good time to remind ourselves how the system used to flag vehicles down works, courtesy of the 2019 European Network Against Racism report 'Data-driven policing: The hardwiring of discriminatory policing practices across Europe'.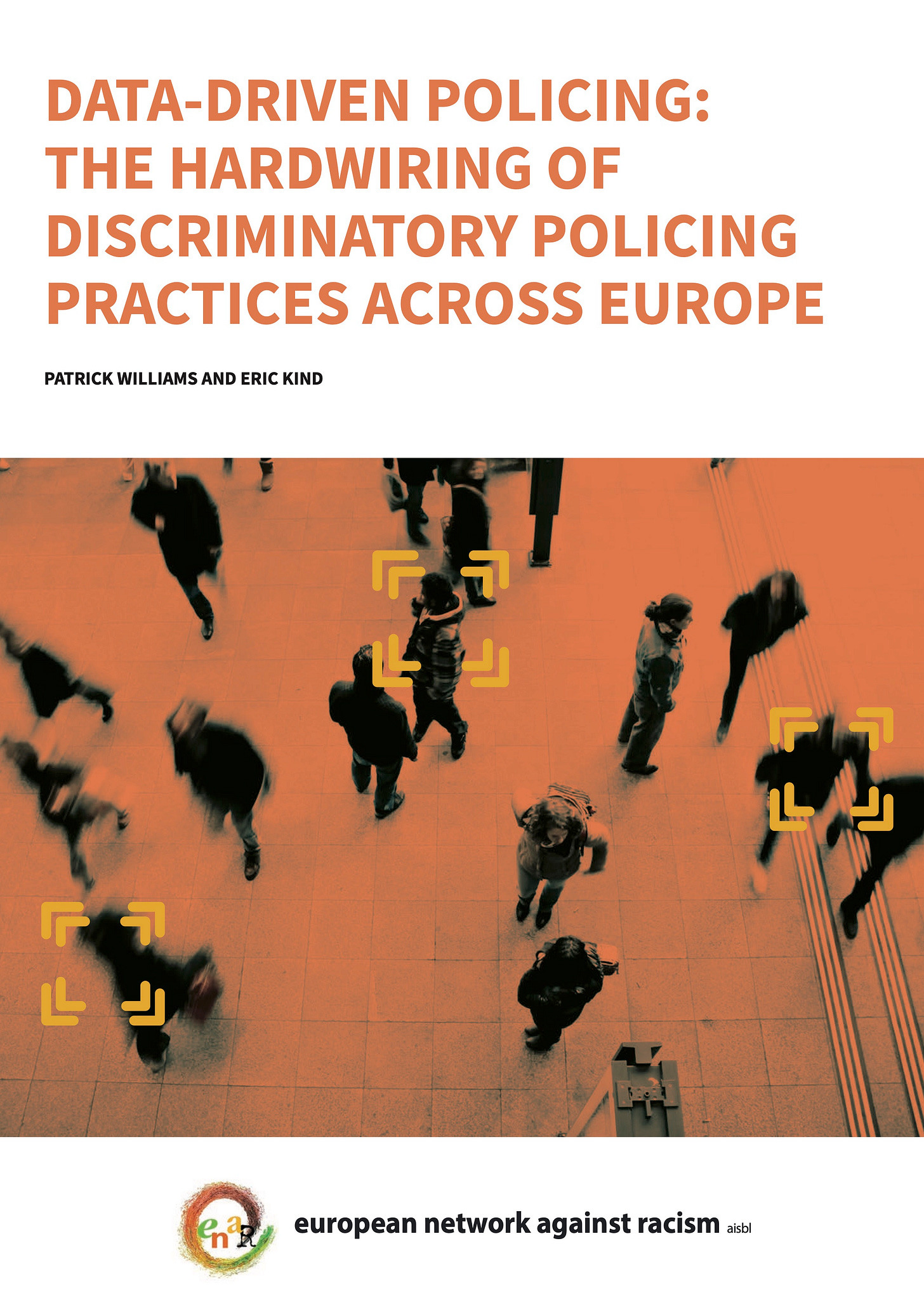 Automatic Number Plate Recognition, or ANPR, is a technology that uses optical character recognition on images to read vehicle registration plates to create vehicle location data. It can use existing closed-circuit television, road-rule enforcement cameras, or cameras specifically designed for the task.
Following the rollout of Project Spectrum in which all 43 police forces in England and Wales were supplied by the Home Office with an ANPR capable mobile unit, in March 2005, plans were announced to set up a nationwide system of over 2,000 automatic number plate recognition cameras in the United Kingdom.
Today, vehicle movements on UK roads are recorded by a network of 11,000 cameras that submit around 50 million ANPR 'read' records to national ANPR systems daily, but as early as 2013, No CCTV noted how ANPR was a key component in the manufacture of 'surveillance by consent' sneaking into policing (see also the Project Champion controversy).
Of course, ANPR systems usually have a manual override facility for various reasons, for instance, the system fails to recognise a licence plate, or the driver has had a change of vehicle, or the on-duty patrol suspect something about the vehicle, and indeed the Met Police statement of the stop involving Dawn Butler MP confirmed that the officers on duty had entered number plate details manually, if incorrectly.
However, it does beg the question why were the details entered at all, and what the justifications were for manually overriding ANPR – is the technology insufficient even after all this time?
Quite aside from the glaring security issues with the ANPR database – earlier this year, details of 8.6 million car journeys were accidentally exposed on the internet in one of Britain's biggest ever data breaches – at least two issues arise from the incident with Dawn Butler:
Is the police's threshold for stopping cars skewed towards negative assumptions of certain drivers?

Are police too reliant upon tech as a panacea for difficult situations, and are there proportionate substitute measures for when tech fails?
As difficult as solving those two issues may seem, one simple solution that could progress policing practices a long way would be to record the ethnicity of vehicle drivers stopped to get an accurate assessment of car stops, as recommended in the Macpherson report more than 20 years ago, and something we noted in our 2017 briefing, 'Driving While Black', co-authored with Liberty.
Until this is implemented, the Met Police will continue to placate the public with basic declarations such as 'criminals use cars' so all cars must be policed:
Civil liberties campaigners see facial recognition off
In a landmark judgement for the nation's civil liberties, judges declared the use of automatic facial recognition (AFR) unlawful, granting Dr Ed Bridges and Liberty a resounding victory against South Wales Police.
In short:
Ed Bridges brought a claim for judicial review on the basis that AFR was not compatible with the right to respect for private life under Article 8 of the European Convention on Human Rights, data protection legislation, and the Public Sector Equality Duty (PSED) under Section 149 of the Equality Act 2010.

On 4 September 2019 the Divisional Court (DC) dismissed Mr Bridges's claim for judicial review.

Bridges appealed on five grounds, three of which succeeded:

The right to privacy under Article 8 of the Convention was insufficiently engaged (South Wales Police offered no clear guidance on where AFR Locate could be used and who could be put on a watchlist);

And so South Wales Police provided an inadequate 'data protection impact assessment' (DPIA) as required by Section 64 of the Data Protection Act 2018; and

The Appeal Court also found that the DC was wrong to hold that South Wales Police complied with the Public Sector Equality Duty under Section 149 of the Equality Act 2010, because the SWP erred by not taking reasonable steps to make enquiries about whether the AFR Locate software had a discriminatory potential impact on racial or sex grounds.
The third point of appeal in particular is crucial because it essentially challenges the makers of AFR technology to make it more race and sex inclusive. Given the well-documented failure rate of facial recognition cameras among people of colour, this kind of technological improvement may take a very long time.
However, the ruling does not banish facial recognition to the shadows forever. Lincolnshire Constabulary have received funding from the Home Office to trial a pilot technology enabling people's expressions and moods to be picked up in CCTV footage (Mail Online, 15 Aug).
There will be many more battles to come.
The Home Office makes some 'stunning' purchases
With all the talk about algorithms ruining lives, the Home Office wasted at least £10 million on an artificial intelligence system predicting gun and knife crime that was found to be 'wildly inaccurate' (WIRED, 06 Aug).
Worse still, despite Freedom of Information requests show children from black, Asian and minority ethnic backgrounds are almost three times more likely to have a TASER used on them by police than their white counterparts (Guardian, 16 Aug), which is the latest in a litany of evidence revealing racial disproportionality in TASER use, the Home Office has sought fit to update its TASER range.
Note the word 'update', rather than 'upgrade', as official assessments suggest that compared with older models, the TASER 7 has a 'consistently higher miss rate', 'may elevate the risk of skull and other bony injuries associated with uncontrolled falls and of musculoskeletal injury due to a more forceful muscle contraction' when fired, in part due to a predicted 'increase in the incidence of darts penetrating the body to their full depth [as well as] injuries to deeper-lying organs and tissues', and may present a 'new injury risk' to passers-by due to having 'a tendency to stray further from the point of aim'. Perhaps the new TASER will generate enough charge to revive the economy.
---
StopWatch is a volunteer led organisation that relies on the generosity of trusts and grant funders to operate. We DO NOT accept funding from the government or police as we believe this would compromise our ability to critically challenge.
As mentioned above, we've had a great boost in support this summer, and we'd love for you to continue to help us; any financial assistance you can provide is greatly appreciated and supports us to become more sustainable. Please feel free to share our GoFundMe page with anyone you feel might be interested making in a one-off donation to our cause. We'd also appreciate regular donations via standing order, if you'd like to pledge your long-term support. Details are:
CAF Bank – Registered office: CAF Bank Ltd, 25 Kings Hill Avenue, Kings Hill, West Malling, Kent, ME19 4JQ
Account Name: StopWatch | Sort Code: 40-52-40 | Account Number: 00027415
—
Stay safe,
StopWatch.