November 2020: Clear imbalance of power
More revelations of racist and morally suspect police interactions rub up against more defences of stop and search practices and timid reforms to fix the issue
Dear StopWatchers,
Another busy month has seen many past instances of police wrongdoing resurface in the courts, the press and on film. The Spycops inquiry, the treatment of Edson Da Costa's family, and the new information brought to light in the Rashan Charles case highlight the ongoing fight for justice and accountability for police actions sought by so many people across the UK.
And we keep going, offering support to victims of police injustice wherever we can. We have strengthened our team with the addition of Camille Lesforis as admin and project support, and we have started filming with Flicker Productions about people's stop and search experiences – please do get in touch if you know anyone who would like to take part. We've also partnered with Culture Mind Therapy to provide mental health support to the contributors when they need it.
We wrote an open letter to the Secretary of State for the Home Department on the ability of Serious Violence Reduction Orders to address knife crime. We expressed the concern that under these new powers, officers would be able to repeatedly stop and search those subject to the orders, simply because they have a related previous conviction.
Youth and Community Engagement Coordinator Neal Brown attended a discussion with MOPAC to discuss aspects of ethnic/racial disproportionality in policing and stop and search, and board member Neena Samota spoke on the panel of 'It's #TimeToTalk: The Injustice of Youth Justice' about how stop and search is a gateway to the criminal justice system for many Black and Asian youths.
In December, we'll be hosting 'Who Polices the Police?', an event with Bristol Copwatch, a community project and police monitoring group fighting back against police brutality, misconduct, and abuses of power in Bristol and beyond.

netpol.org/resources/film…
On the 5th of December, our training with Stopwatch "Who polices the police?" is happening! Amongst many things including Stopsearch rights training, section 60 and more we will cover Copwatching and why it matters. Here's
#Netpol
on filming the police.
A Rough Guide to Filming Police Stop and Search | Netpol
netpol.org
Topics in this newsletter include:
The latest developments (and lack of) in the long-running debate about institutional racism in the police force

In other news: Spycops, PSNI review, Edson Da Costa, Rashan Charles and more

In Terrible tech, outgoing Surveillance Camera Commissioner Tony Porter says some camera networks are used by local authorities to effectively spy on us, without regulatory oversight
Please enjoy our roundup of stories below.
---
How do you solve a problem like institutional racism in the police force?
This month, the parliamentary Joint Committee on Human Rights released a comprehensive report detailing the extent to which Black people suffer from racism in the UK, 'against the backdrop of the Black Lives Matter protests and the government's announcement of the Commission on Race and Ethnic Disparities'.
By its own admission, it said nothing new, but it is important to note that the relationship between Black people and the police was a prominent feature of the report, exemplified by the summary.
That the vast majority of Black Britons surveyed did not believe the police treated them fairly is echoed in Netpol's Britain Is Not Innocent report, which focused specifically on the summer's Black Lives Matter protests. It found that:
The police disproportionately used excessive force in Black-led protests, against Black protesters

The police routinely break their duty of care towards sick or injured protesters

Social distancing and other COVID-19 regulations were enforced selectively

The police are largely ineffective in keeping members of the public safe from far-right and racist harassment and violence
Stop and searches expose the sensitive nature of interactions between police and individuals. Unnecessary hostility from either party can exacerbate the situation, but there can be no doubt that on the police's part, hostility is a violent act of maintaining control at the individual's expense. The well-documented saga of Ryan Colaço's numerous stops demonstrates this.
It is hard enough to get police officers to admit that handcuffing certain people during a stop if they are not under arrest is wrong, as one criminal law blog states (Lexology, 30 Oct):
It should not be difficult to understand that the use of handcuffs on a person who may be completely innocent of any wrong doing is upsetting and degrading. Worryingly, the IOPC saw a lack of understanding from officers about why their actions were perceived to be discriminatory.
But the solutions to this issue involve more than simply avoiding misconduct:
The IOPC's recommendations (which the Metropolitan Police have agreed to adopt in full) are a step in the right direction and may provide for some operational improvement on the conduct of searches on a day to day basis. But improving the operation of individual searches is not enough, when there appears to be a structural problem with the statutory regime.
As off-the-shelf solutions to institutional racism go, when complainants are not being gaslit about the extent to which police interactions harm their communities (see Met chief Cressida Dick in the Times (£wall), 28 Nov), much has been made of the drive to recruit BAME candidates to better reflect the communities they serve, especially in London (Guardian, 13 Nov). However, some point out that they cannot just recruit their way out of the problem, any more than they can fix things simply by being more professional.
So, while the capital city's mayor Sadiq Khan promises to take some much needed steps to investigate whether traffic stops are discriminatory (Cumnock Chronicle, 13 Nov), non-punitive policies to help reduce harm among young people risk being ignored.
Keeping records of interactions with the public ought to be a necessary condition of fair and accountable policing. Researchers who spent seven years observing police stop and search found that 'while numbers of stop and searches have declined since 2014, the disproportionate use on young Black men continues to cause concern' (The Conversation, 16 Nov). They also wrote that they:
… can see no reason why details of vehicle stop checks should not be recorded. This would create vital information about who is being stopped, when, and for what reason, which would enable a deeper understanding of why Black people are so much more likely to be searched than white people.
A deeper understanding would be the start of a much-needed improvement in relations between the police and Black people.
---
Other news
The first phase of Undercover Policing Inquiry hearings (the Spycops public inquiry) was heard over a three-week period, the (sometimes) live online stream covered in detail by the Campaign Opposing Police Surveillance (COPS). The hearings covered the formation and activities of the Special Demonstration Squad in the early days, and the harrowing stories of some of their targets, plus the defences put up (and some admissions made) by Spycops representatives. Check the link to the COPS website for a full account, and more general information on Spycops here.
The timing of the inquiry brought the newly proposed Covert Human Intelligence Source (CHIS) Bill into sharp focus. At the time of writing, it is making its journey through the House of Lords. Dubbed a new Spycops Bill, it seeks to cement a ruling in December 2019 that MI5 and other agencies are permitted to commit serious crimes in law (EachOther, 09 Nov).
Some argue that worse than simply formalising in statute what happens in practice, issuing a form of blanket immunity 'removes that crucial legal and psychological boundary that we are always subject to the decision of a court', as former undercover drugs operative Neil Woods writes (Independent, 24 Nov):
This Bill invites criminality into a realm uniquely susceptible to it. It enforces opacity and impunity onto areas in which transparency and accountability are utterly essential – not just for the safety of our communities, but for the integrity and reputation of policing as a whole.
How can policing by consent work? Models like Stop and Search Scrutiny Panels could be adopted to empower communities, writes Ben Twomey (openDemocracy, 10 Nov).
In Northern Ireland, the Policing Board has questioned whether the PSNI's approach to Black Lives Matter protests was 'unlawful'. CCTV and body-worn videos provided by the police service from events in Belfast and Londonderry in June reflected the absence of any careful consideration of the right to protest, the force's oversight body said. The review said it was a 'missed opportunity' for officers to show a positive approach to the right to assembly (ITV News, 11 Nov).
On the issue of stop and search in Northern Ireland, we recommend listening to episode 9 of the Policed Podcast, which provides an excellent overview of the situation, including distressing testimony from Travellers subjected to regular gardaí searches.
Eight officers are under investigation after a Black woman was pinned to the ground and punched during an arrest, say the Metropolitan Police (BBC News UK, 25 Nov). Mobile phone footage of the woman's arrest, which happened in May, shows how several police officers physically restrained her after officers pulled over a car in south-east London in which she was a passenger. A BBC Newsnight feature on the story confirmed that at the time of broadcast, the woman has yet to receive an apology from the police. All charges against her have been dropped.
More than three years on from the tragic death of Rashan Charles, a new article focuses on the actions of the 'bystander' who assisted the uniformed police officer in restraining Rashan, analysing footage from the store's CCTV cameras (openDemocracy, 26 Nov). The Shine A Light investigative unit have also produced a new film on the case – you can view the trailer in the link below.
@_lesliethomas
@GreshamCollege
@Rebecca_Omonira
Thank you. All of our reporting so far on the police restraint death of
#RashanCharles
is gathered here
@SHINEreports
opendemocracy.net/en/shine-a-lig…
here's a 2min taster of our new 20min film—distressing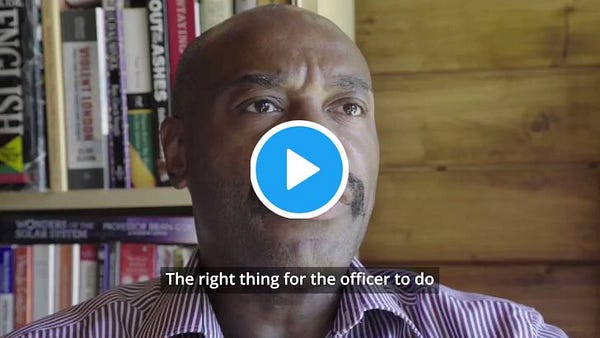 Another case that happened that summer, the death of Edson Da Costa, has suffered a setback, as his family recently discovered that the only police officer due to face IOPC misconduct proceedings over Da Costa's death left the force over a year before disciplinary proceedings began (The Guardian, 28 Nov).
---
Section 60 watch*
London
Barking and Dagenham (27 Nov), Ealing / Hillingdon / Hounslow (09, 19 Nov), Hackney (21/22,25 Nov), Harrow (18 Nov), Hammersmith and Fulham (13, 14 Nov), Kensington and Chelsea (13, 14 Nov), Merton (12 Nov), Merton and Wandsworth (03 Nov),
Hertfordshire
Hatfield (01 Nov)
Thames Valley
Slough (05, 22 Nov), Oxford (08 Nov)
Merseyside
Stocksbridge (13 Nov), Wirral (11, 12 Nov)
Cheshire
Crewe (21 Nov)
South Wales Police
* This is not a comprehensive list
---
Terrible tech – some cameras really are spying on you
Satisfying the suspicions of the most ardent tinfoil hat brigadier, outgoing Surveillance Camera Commissioner Tony Porter proclaimed that some police technology – notably Automatic Number Plate Recognition (ANPR) – has become so sophisticated that 'it is on a par with techniques used to spy on suspects – but without proper regulation' (Mail Online, 11 Nov). With 60 billion vehicle registrations recorded each year, the ANPR camera network has produced one of the largest non-military databases in western Europe, all with no statutory oversight. Porter insists that we need parliament to make rules that protect our privacy in that field of surveillance.
Elsewhere, the Electronic Frontier Foundation warns of advanced video analytics tools capable of picking out ever more minute details of individuals captured on camera (19 Nov):
This new era of video analytics capabilities causes at least two problems. First, police could rely more and more on this secretive technology to dictate who to investigate and arrest by, for instance, identifying the wrong hooded and backpacked suspect. Second, people who attend political or religious gatherings will justifiably fear being identified, tracked, and punished.
Given Tony Porter's remarks about lack of regulatory oversight, the UK may well prove to be a more welcome testing ground for surveillance tracking than anywhere else in the US and Europe.
---
StopWatch is a volunteer led organisation that relies on the generosity of trusts and grant funders to operate. We DO NOT accept funding from the government or police as we believe this would compromise our ability to critically challenge.
If you'd like to pledge your long-term support, we'd appreciate regular donations via standing order. Details are:
CAF Bank – Registered office: CAF Bank Ltd, 25 Kings Hill Avenue, Kings Hill, West Malling, Kent, ME19 4JQ
Account Name: StopWatch | Sort Code: 40-52-40 | Account Number: 00027415
—
Stay safe,
StopWatch.